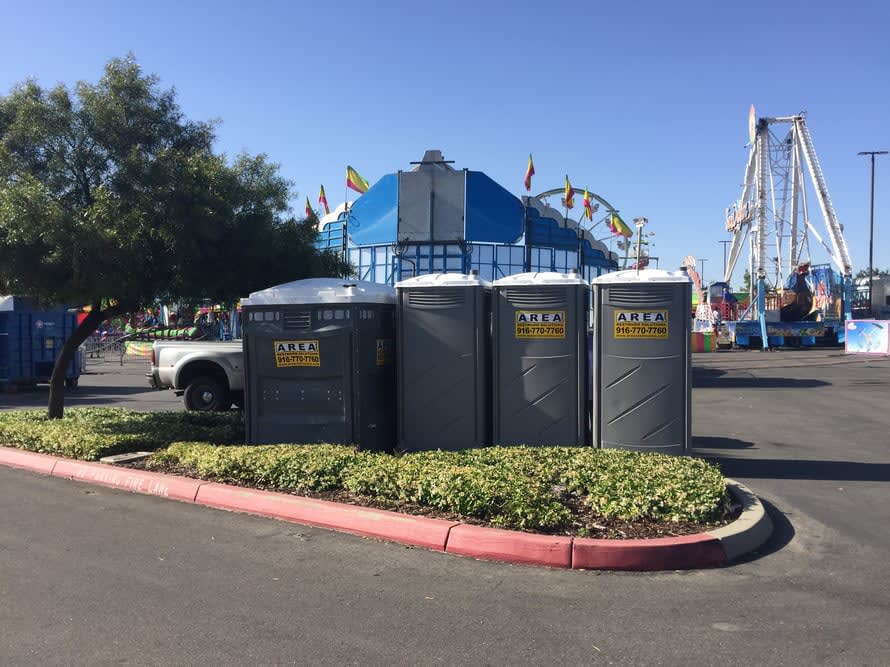 Portable Restrooms and More From Local Experts​
Area Portable Services in Rancho Cordova, CA
Area Portable Services is the team to call when you need high-quality and clean portable restroom options for your Jobsite, outdoor event, and more. We also provide construction teams with temporary fencing when required to block off the area of the site. You can trust our team to ensure you get everything you need to stay healthy and sanitized while working on your new project or hosting the next big event. We carry restrooms to meet all your needs. These are not the porta potties from back in the day. With modern innovations and technology, we can provide your event or workspace with something truly unique. Give us a call today, and let's get started by chatting about your site and events needs for portable restrooms and more.
Available Rentals From Area Portable Services
In order to keep your worksite or public event safe, you will need to have a safeguarded space for your team or attendees to use the bathroom. Area Portable Services provides such a service and will ensure everyone has a clean and comfortable space to relieve themselves during the day. You can also count on us when you need construction supplies such as temporary fencing. We can even send out a team of a project manager, field superintendent, engineer, and other staff members to keep the constriction process on track and on time. Check out our rental options below: 
Portable Restroom: Count on Area Portable Services to have the portable restroom you need for your event including, Standard Portable Restrooms, Deluxe Restrooms, and ADA Restrooms.
Restroom Trailers: If you have a bigger party or event, these are the best option. You can fit more people in at once so you can keep lines and wait down to get your guests quickly back to the party or event.
Special Event Restrooms: Area Portable Services can make your next special event even more distinct by providing restrooms for all your guests to use. Having adequate facilities is important, and we help you take it to the next level at weddings, carnivals, sporting events, and so much more.
Construction Products: On top of portable restrooms, we can provide you with a staff to help keep everything and everyone on task. Project managers, field superintendents, engineers, and other staff members are all at your service. They maintain excellent communication as well to make sure you are informed.
Benefits of Using Portable Restrooms and Temporary Fencing
Besides giving your guests and employees somewhere to use the bathroom, you can add elegance with our multiple options. We also have more cost-effective ones for those with a particular budget in mind. By working with us, you can stay in touch to make changes as needed.
Trusted Resource for Portable Restrooms and More
When it comes to portable restrooms in Rancho Cordova, CA, Area Portable Services is the team to call. We have provided these options to residents and businesses to ensure their next event or large project goes off without a hitch.
Our staff
understands exactly what you need in a portable restroom to keep everyone healthy, happy, and comfortable. By speaking with us over the phone about what you need, we ensure your guests have a pleasant experience. You can also count on us to provide your next project or job site with experience and trusted leaders to get the task done on time and to the clients' standards.
Reach Out Today for More Answers
When you are ready to
begin shopping for portable restrooms
and more, give the team at Area Portable Services a call. We have helped plenty of clients in the Rancho Cordova, CA area find the proper restroom for their budget, event, and guests or employees. Our high-quality options come equipped with a multitude of different special features to meet your needs and wants.
Reach out today
to speak with our team about which option is best for you and how else we can help service your project site or event.