Wind & Privacy Screens in Rancho Cordova, CA
Area Portable Services' outdoor wind and privacy screens are made with a high-grade tight knit material that provides 98% blockage. They are some of the most durable and economical screens on the market. Wind and privacy screens often benefit a worksite by making it look cleaner, hiding clutter, and protecting workers from the effects of wind.
Temporary fencing or panelized temporary fencing is a free-standing, self-supporting fence panel. The sides of each panel are held together with couplers that interlock panels together. This improves portability as well as making the fencing more flexible for a wide range of applications.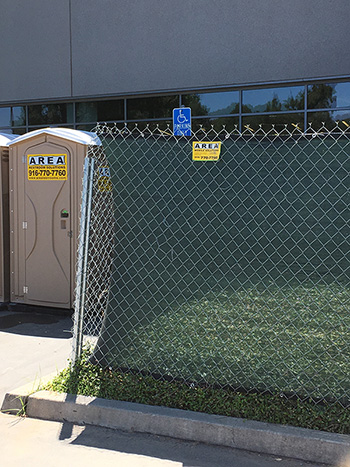 Our privacy wind screens are some of the most durable screens available. They have reinforced binding around the entire panel. This added strength and resistance means they are capable of withstanding extreme weather and wind. The classic dark green color of our screens helps them to blend in beautifully and seamlessly with the environment around them.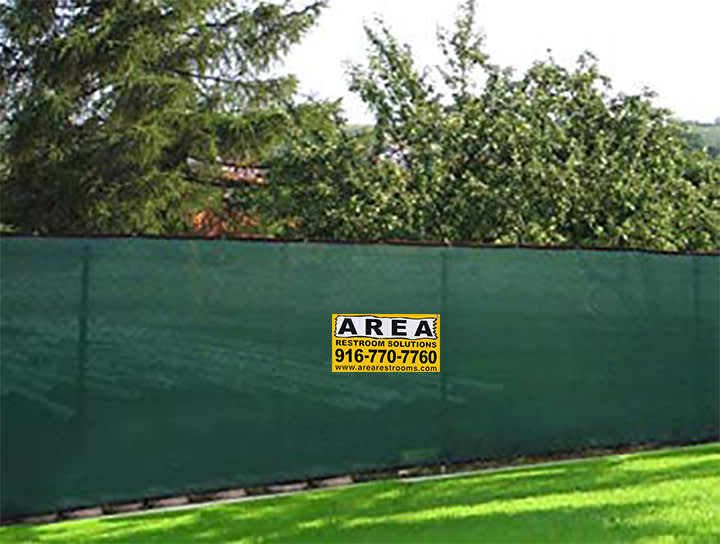 Outdoor Wind and Privacy Screens
Fence covers and wind and privacy screens are the perfect option for your next construction project or event. Area Portable Services provides top-of-the-line protection with our screening choices. Contact us today about renting our wind and privacy screens so you can utilize your workspace or enjoy your event regardless of the weather.
Area Portable Services
offers a
wide range of temporary fencing
systems and products.
Decorating with Wind Privacy Screens
While wind and privacy screens are often used for construction sites and projects, they can also be used to decorate and keep your guests warm at an event. If the weather isn't quite what you imagined, these screens can be used to block the wind and add some extra color to your event. If dark green doesn't quite match the aesthetic of your event, we offer wind and privacy screens in many other colors.
Area Portable Services' temporary fences for rent have several ideal usages, including:
Temporary job site barriers
Crowd control
Hazardous waste containment
Fire & water restoration damage
Special event needs
When you choose to add wind and privacy screens, these temporary fences can be used for far more. They will protect from lateral sun, provide extra privacy, discourage intruders, and protect from strong winds.
Choose Area Portable Services
Area Portable Services has been serving Rancho Cordova, CA for many years. We guarantee affordable rates and customized service, and our equipment is always clean and up to date. Our staff offers fast and reliable service, including emergency services. Area Portable Services is dedicated to ensuring your satisfaction. Contact us today!