Panelized Temporary Fencing
6' x 12' steel panels
Steel T-Stand bases
Privacy Screen
Sandbags
Bigfoot Bases
Inground Panel- Post Driven
Crowd Control Barricade
Area Portable Services Provides Fencing for Your Events
If you are hosting an event or need to secure a construction site, you likely need temporary fencing to utilize as needed throughout your event or project. Area Portable Services offers temporary fence rentals in Rancho Cordova, CA for various occasions. Our fencing can help to control and organize the flow of foot traffic during events and can also be used to deter trespassers from entering your worksite after hours. We provide prompt, professional service to sites throughout the area, delivering and setting up all fencing exactly where you need it. Let us help your project or event succeed by hiring our hardworking team. Contact us today to book your rental!
Our Fencing Options
Every project or event will have different fencing requirements. Perhaps you only need a small area contained, or maybe you need to set up a large fencing system to facilitate your outdoor event. Whatever your needs, we have a temporary fencing solution to solve it.
Our team
can help you choose the right option for your project and ensure all fencing panels are delivered and set up on time. We offer the following fence rental options: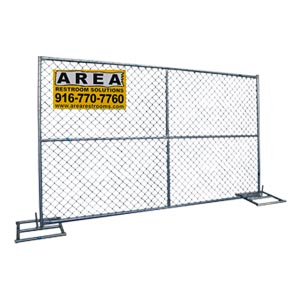 Panelized Temporary Fencing
Our panelized fencing requires no drilling to set up. Rather, the fence has rugged and durable metal feet to keep it steady throughout the duration of your project. The metal feet can be painted bright orange for additional safety measures. Our temporary fence panels are well-maintained to keep a professional appearance.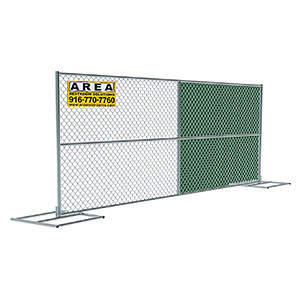 We can add a wind and privacy screen to any one of our fence rentals options. This keeps your worksite private and protects your workers and materials from strong winds.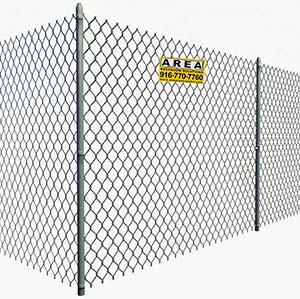 In-Ground/Post Temporary Fencing
We offer an in-ground fencing option to provide superior wind stability. This fencing system is difficult to move, which provides added securing and makes an excellent option for long-term projects. We also have additional wind support bracing and customized gates available.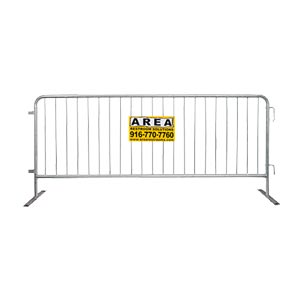 Our crowd-control barriers are perfect for large outdoor events like concerts or festivals. It's ideal for organizing lines at the entrance of the venue and for keeping crowds away from the stage and other important areas.
Why Is Temporary Fencing Necessary?
Temporary fencing is necessary for several reasons. Perhaps the most important reason is safety and security. Placing a temporary fence around your worksite will protect it from trespassers who may otherwise cause damage or take your supplies and tools. For outdoor events, temporary fencing protects the event space from uninvited or un-ticketed guests. The fence can also help to keep guests safe by containing them in a safe area away from traffic. This is especially important for events where alcohol may be served. In addition to safety and security, temporary fencing helps to organize large events by dictating the flow of foot traffic around the grounds.
Why Choose Us
Area Portable Services
is the team to choose for all your portable fence rental needs. We provide superior service you won't find from other rental companies in Rancho Cordova, CA. No matter the size of your project or how soon it is, we can usually accommodate and get you the items you need, even on short notice. Area organizations and contractors have used our services for years to ensure their event and project areas are secure. We're an excellent choice for your temporary fencing needs for the following reasons:
Affordable Rentals: We offer numerous affordable fencing options, helping those on a budget get the items they need without breaking the bank.
Quality Equipment: We keep all our equipment well-maintained and ensure it's in good condition when it arrives on your site. We know you want to keep your worksite looking professional and well-kept, and our fencing helps to maintain that image.
Prompt Service: Our team provides quick and prompt service, even on short notice. You can be sure our team will arrive as scheduled with your rentals and work quickly to set them up by the time you need them.

Contact Our Team Today
The security and organization of your worksite or event are of utmost importance, and our temporary fencing helps to protect any site. If you need to schedule a fence rental for your next event or project, please reach out to the team at Area Portable Services today. As a locally-owned company, we treat all our customers like family and will go the extra mile to ensure you have what you need.
Contact us today
to book your equipment rental.